Anniversary Photo Shoot in Orlando –  Timeless Love
Accidental Meeting Turns Into 17 Glorious Years and Results In An Anniversary Photo Shoot!
Say hello to Lee and Natalya! They decided to do a photoshoot in honor of their anniversary. Their story is a little unique – they got together by accident!   They met 17 years ago but neither was looking for a relationship.  However, they fell in love and they've been together ever since! And what is a better way to celebrate love than having a beautiful anniversary photo session?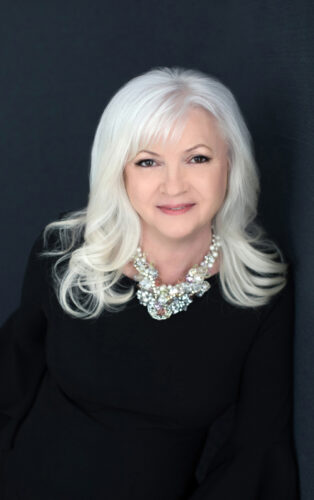 As a Tamara Knight Photography client, you always get a consultation, typically at your home. During this time, Tamara will talk to you about the effect you want. It can be anything – serious, lighthearted, dreamy, etc., and to get the effect she'll help you decide what to wear.  Typically recommended for ladies are solid colors in form-fitting shapes, with sleeves.  (The ladies look prettier but let's face it: guys are much easier to dress!) At Natalya's consultation in her home, Tamara helped her decide on a beautiful dark color palette to make sure that their beautiful facial expressions shine!  We love this dramatic yet elegant black dress with its bell sleeves. It was perfect for an anniversary photoshoot!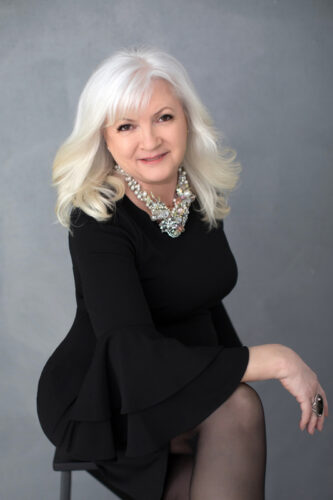 Speaking of drama, take another look at that stunning necklace! Natalya made it all by herself!! Such talent!!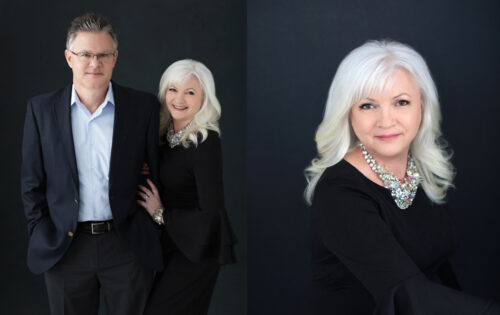 Another part of the consultation is when Tamara explains the details of the photo session and the process.  This is when you can tell her what sort of poses you'd like, which is an extension of the feeling you're trying to capture.  Natalya wanted simple, elegant, direct poses. So we did just that!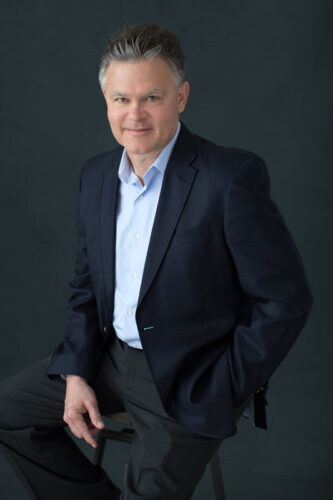 Now for the fun: the day of the shoot! This begins with a before shot (that you approve) and offers of coffee, tea, water or wine.  Then you begin your hair and makeup session with one of Orlando's top artists.  The artist talks to you about the look you want for the shoot, how you like your makeup and hair, and will make lipstick change suggestions for the different outfits. The smoky eye and neutral lip our artist and Natalya chose are a perfect foil for her hair, and keeps all the attention on her beautiful face.
For a couple shoot like this, the partner can come separately if he'd like, so that he doesn't have to wait for hair and makeup.  Once he gets there, he also gets offers of refreshments.
And now, the shoot begins!  This is where you can have a lot of fun!  The studio is stocked with different props should you need them, including jewelry and a few little tiaras (because sometimes we all need a tiara!).
At a point during the shoot, Tamara takes a short break to download photos while you have a snack!  During your consultation, you fill out a form, part of which is a little questionnaire about food – whether you have allergies or aversions and what kind of wine you like.  During the shoot, our clients get a platter with crackers and hummus, nuts, fruit, and cheese, and of course any drink you'd like.
Once you finish the shoot, Tamara downloads the rest of your shots and quickly does superficial edits on them. She asks that you take about an hour to go get lunch or a coffee and when you come back, you're ready to view your pictures and choose your forever shots.
You also have the choice of how you want your prints. They can range from matted prints or an album of photos all the way up to a canvas oil painting or a metal wall piece.  Tamara asks you where and how you're thinking of displaying the prints and recommends products based on your home's overall décor as well as the spaces the prints will be featured. Natalya chose some simple matted photos and two gorgeous canvases.
Natalya and Lee were very happy with the experience and result of their anniversary photo shoot!
If you have questions on what happens before, during, or after a shoot, contact us here.
The Tamara Knight Photography experience always includes professional hair and makeup! The amazing Caroline van Haastert was the artist at this session. Find her on Instagram: @makeupbycarolinevh
Tamara Knight is an experienced Orlando photographer, she will make sure you love the results of your anniversary photoshoot! Learn more about what Tamara Knight Photography offers and