Family Photographer in Orlando
Get a Stress-Free Family Photoshoot
Photo sessions are perhaps the best way to spend quality time with your family. They always leave a lasting impression, whether it is a fond memory or pictures that you hang on the wall or a beautiful photo album.
But it turns out that many people hesitate to visit a professional photographer because it, apparently, involves too much stress. How to prepare, what to wear, and how to pose, these questions make your head go round. It's time to put an end to all of your fears and anxiety. I know the secret of a stress-free family photoshoot and I'm going to share it right now.
I always say that getting yourself prepared for a shoot is the best way to ensure awesome photos. What do you need to get ready for your session? First of all, you need to come up with a theme or idea for your photos. Would you like your squad to put on nice outfits and get classic family portraits? Or maybe you would prefer me to capture you doing something fun together? Or, perhaps, you want to go to your favorite place and have a shoot there? In fact, there is a million and one option for a photo shoot, you just need to choose one (or more!) that resonates with your family the most.
When you decide on what you want your family pictures to look like, the next step is to take care of the necessities. If you'd like to go for a photoshoot in a country club, luxury hotel, farm, or wherever, it goes without saying that you have to book this place. In this case, you need to synchronize photographer service and location booking, and this takes more time, more phone calls, and more nerves. It's worth it if you want unique photos aligning with your group dynamics. On the other hand, if you are looking for a stress-free family photoshoot experience, then studio shooting is your best bet.
When booking photography services at my studio, you can rest assured that I'll be fully equipped and ready to meet your family.
You just need to tell me how you see your perfect photos and I'll set up proper lighting, props, backdrops, and all that jazz. All you need to do is arrive in all your glory and enjoy yourself while I take the photos.
Speaking of you being glorious, don't forget about the right clothes, make-up, and hair. These are the building blocks of your look. If these blocks are tastefully selected, they fit together and make up a cohesive canvas, your photos are going to be a feast for the eye. But if they don't match, you can count on a photographic disaster.
Normally, the theme of your photo session should give you an idea of how to dress and accessorize. The most hassle-free option is to put on your finest dresses and suits as if you were going to a dinner party. You surely have a couple of such things for special occasions in your wardrobe, don't you?
Take a look at Tara and John and their kids, Lily and Mitchel, aren't they gorgeous in their classy outfits? Nothing is too fancy or over-the-top. Yet, it's more than enough for a stylish and elegant family look. I'll tell you more, you don't even have to wear dresses and suits. Jeans and T-shirts are perfect for casual family photography. The most important thing is that everyone looks like they belong together.
But what if you want something more creative than that? This is the case when a pre-shoot consultation comes very in handy. I am always ready to listen to all your wishes and ideas, and if you get stuck, I can help you with some creative suggestions. Don't get upset if you don't have clothes for the looks you like – I'll cue you in on a couple of places where you can rent amazing outfits.
A Touch of Perfection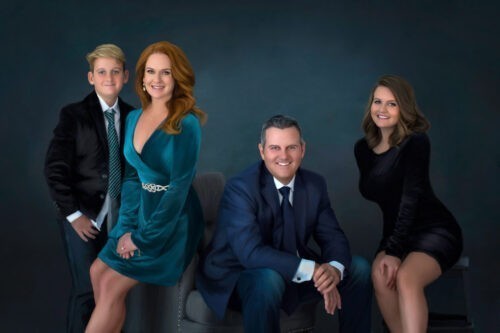 A beautiful look is impossible without proper make-up and hairstyle, at least for the female part of the family. Unfortunately, not everyone is a pro when it comes to fussy hairdos and perfect cat eyes. Is it worth it to fiddle with brushes, makeup, and hair products a couple of hours before your photoshoot? The stakes are too high – not only the beauty of your photos are at risk, but you may also actually ruin your mood. This is not at all what you want from a photo experience.
For those of you who wish their look to be flawless, I offer stress-free family photoshoot packages including professional hair and make-up services. I work with some of the best artists around and I know for sure that your face and your hair are going to be well cared for. Guys can get their hair done as well if they wish. And if they don't, they can arrive later after the girls are done because we don't want to get them bored!
Get the WHOLE FAMILY Together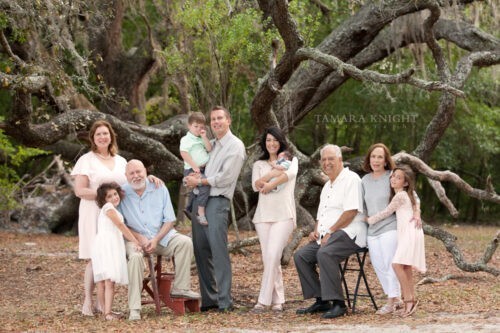 They say the more the merrier. This formula works perfectly with family photoshoots as well.
Many people feel pressure when a camera looks right at them. They don't know what to do and it makes them feel awkward. But it's a totally different thing when you're not alone. The people you love kind of create a safe environment where everyone can loosen up and show their best sides. The more people there are with you, the better. Not only people but also cats and dogs because they are part of the family.
My photo studio is a place friendly to your four-legged friends. So don't worry about anything, take them with you and they will help make your stress go away. As a bonus, they will give you lots of sincere smiles, and this is the best embellishment for your photos.
Can you take your eyes off this sweet chocolate cutie pie? This sweet doggie was such a pleasure to work with and, more importantly, his presence made the family pictures complete.
A Stress-Free Family Photoshoot for Everyone
Do you want your photo session to be a pleasant surprise for every member of the family? Then let them showcase their personality, give them some time to shine. It's totally ok if some of the pictures feature only your daughter or your son. Don't worry, you'll have plenty of time for group photos and individual portraits if you plan everything beforehand. When everyone is given a chance to do what they want and how they want it, you'll witness the happiest photo session ever.
Lilly is an amazing singer and musician and she wanted to show her passion for music at the family photoshoot. So we did a special mini shoot for her using musical instruments as props. As a result, we had a happy teen, happy parents, and some cool music-inspired portraits.
So, if you want to have a stress-free family photoshoot, don't forget to ask what every member of your squad wants. And I will give it my best shot to make your experience joyful, captivating, and fun.
If you need help with ideas for your photosession or you have any questions, don't hesitate to give me a call (650-218-2417) or send an online request. Let's discuss what you'd like to wear, how you'd like to wear it, and where you'd like to be. Looking for a hair and make-up artist to polish the chosen looks? I had the pleasure to work with some of the greatest professionals in the beauty industry and I'll gladly share their contacts with you. I'm looking forward to seeing you at your shoot, suited, booted, and beautiful.