Fashion Photoshoot
When Fairy Tales Come True
Get creative with a fashion photoshoot! Photography is a great way to express yourself and let out your creative side!
Creativity is an indispensable part of my job as a photographer. Every shooting, whether it is a family portrait or beauty photo session, is an opportunity to showcase my flight of fancy. At the same time, my career path is bristling with moments when creativity finds me on its own. This happens every time I work with Elena Ebenhack, a milliner, accessory designer, and my good friend. Collaboration with this incredibly talented woman is always something unusual, whimsical, and unforgettable. This fashion photoshoot didn't become an exception.
The beauty of shoots for Elena is that I never know what to expect from them. What I do know is that they are fun and artistic. Along with that, they are unexpected and unimaginable. It's always a surprise to learn what Elena has in mind for our next co-creation. I was bowled over by the beauty of her hats and the opportunity to present them in a striking way when we worked on the visuals for her Bedtime Stories Collection (if you haven't seen these masterpieces yet, you're in for a treat). Next, I had the pleasure to shoot the Potpourri Collection for her brand Ma Belle Mademoiselle. And since the third time is the charm, our following collaboration promised to be charming indeed. Well, Elena didn't let me down.
Once Upon a Time Fashion Photoshoot
When I was starting to think that nothing could surprise me more, Elena exceeded my wildest expectations. Yes, we've already worked on photo illustrations inspired by children's fables, but this time around everything was bigger, fancier, and, dare I say, better.
The idea behind this fashion photoshoot remained the same – we weaved Elena's original hats into the stories everyone knows from childhood. The most exciting part of this experience was to visualize images, prepare props and wardrobes, as well as pick the right models. The images we created are the blend of Elena's audacious creations, props crafted specifically for this photoshoot, and clothes you won't find it hard to unearth in the most ordinary wardrobe.
Not that we got the right atmosphere, why don't we listen to the stories told by our characters?
Nutcracker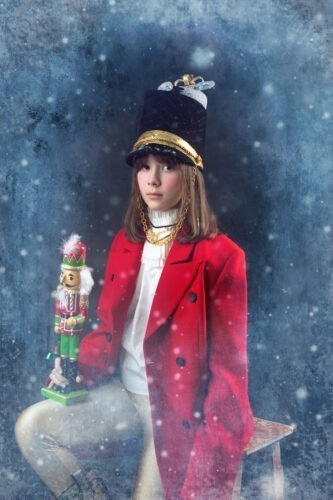 A red blazer for red uniform, a dashing top hat with gilded detailing, and iridescent cowboy boots – this is our Nutcracker. Our character is bold, audacious, strong-spirited, and has a kind soul. In the story steeped in magic, Nutcracker gets a princess. Well, this story is a little bit different. In our interpretation, the princess herself becomes a Nutcracker. She may have traded her dress for military-like attire but nothing can overshadow her beauty.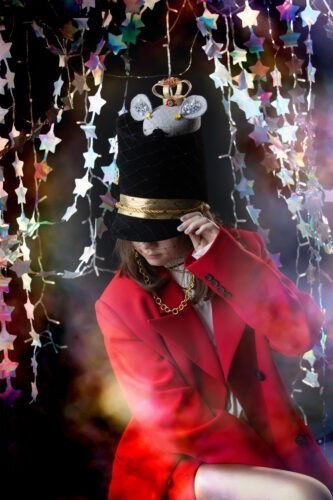 The Princess and The Pea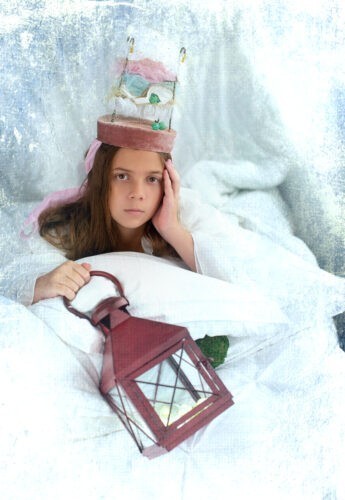 How to prove that you are of blue blood? If royal grace and unprecedented beauty are not enough proof, then why don't you lie down on the feather beds? But here's the catch, something tiny and barely noticeable can make or break even the cutest young lady. Well, our princess passed the pea test with flying colors. In truth, our young queen-to-be is not afraid of any tests. This modern little woman overcomes difficulties with admirable dignity and nobility. And when all the hurdles are overcome, you can luxuriate in a soft bed, and don't let any pester peas bother you.
Cinderella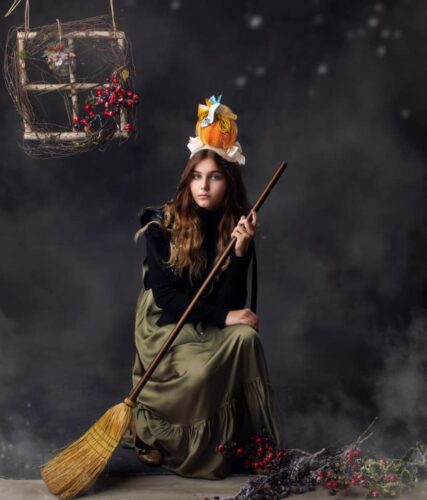 She is not afraid of hard work. She remains friendly and optimistic even if the whole world is against her. She was not born in a royal family but she is worthy to ascend the throne. She  is our Cinderella. Our beauty is charming both in a fluffy gown and in an unprepossessing robe. She is the creator of her own happiness, she just needs a helping hand of a fairy godmother. When you really believe in the happy ending, even a pumpkin can become a carriage, let alone a simple girl can become a princess. Cinderella's story is an inspiration for all the little princesses out there – if you really really want something, you will certainly get it.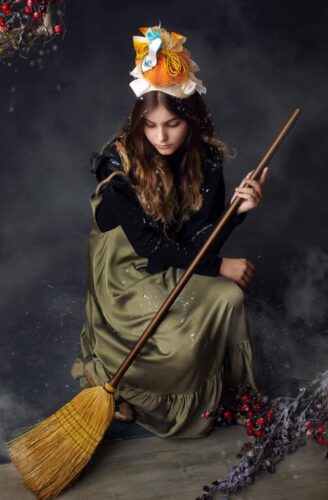 Alice in Wonderland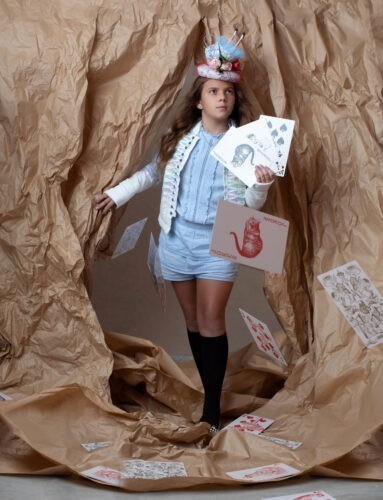 Our next heroine is Alice in Wonderland. She is not afraid to dive down the rabbit hole and embark on exciting adventures. She finds a common language with mad hatters, white rabbits, and Cheshire cats, no matter how eccentric and quirky they may be. This fragile but audacious girl bravely speaks out against injustice and stands against the White Queen. And let's face it, a hat looks good on Alice, even the Mad Hatter admits it.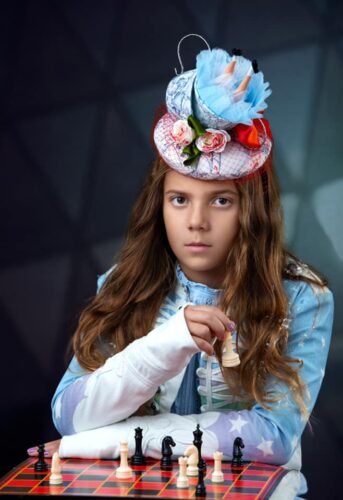 Swan Princess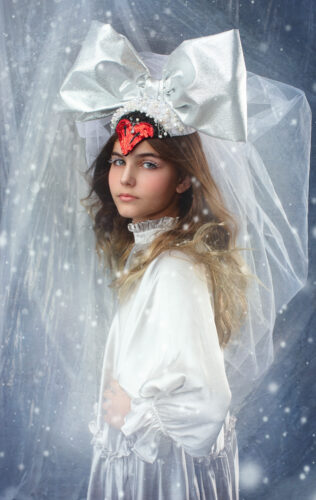 Last but not least in our fashion photoshoot is the Swan Princess. No prince can resist her charm. Whatever form she takes, she is always elegant and sweet. She believes that love can conquer it all. Her story proves that even the most difficult life circumstances have a way out, you just can't give up. In the end, your reward is a happy ever after.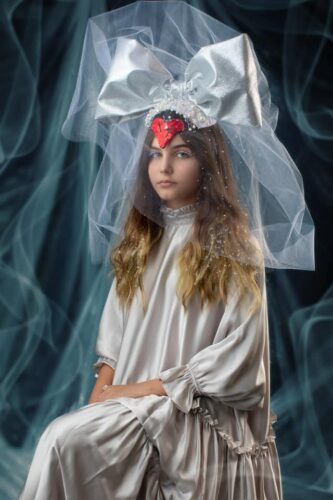 If you are not indifferent to beautiful stories and a dreamlike atmosphere, don't hesitate to become a hero of your own fashion photoshoot. With so many beautiful fairy tales in the world, there is definitely one that fires you with enthusiasm. And if there is no such tale, then you can write your own! A story that inspires can come alive with the magic of photography. To make your illustrations as fabulous as possible, I offer turn-key packages including shoot planning, wardrobe consultation, hair, and makeup services, and, of course, artistic photographs from yours truly. Let's bring your fairy tale to life together!