Senior Photographer in Orlando
Girls love taking pictures. If your phone overflows with selfies, maybe it's time to give a real photo session some thought?
A professional shooting is a solution to get a stack of beautiful photos and a lot of lasting emotions into the bargain. But to make these photographs a feast for the eye, you need to make sure they are on the creative side. You may hesitate to plunge into full-on creativity, though, because it requires time and money. But don't worry, you can easily make your photos worthy of note without falling over yourself. Below, I will show you five creative senior photography ideas that are easy to implement but hard to ignore.
1. Get a Stunning Outfit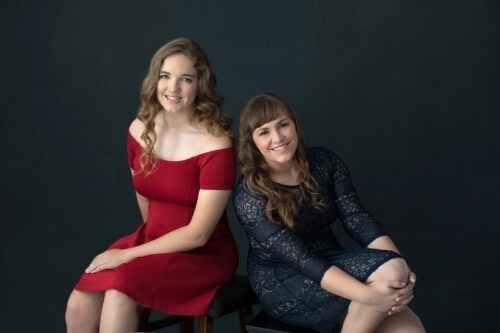 You need a dress to impress. Nothing adorns a young lady like a stunning outfit that fits like a glove and emphasizes her virtues. Pick a flowing maxi dress, turn on a wind machine, and you are sure to get photos just like those of Hollywood divas. Elegant gowns are always a win-win. That being said, when it comes to a wardrobe choice, you have a golden opportunity to showcase your individuality.
Just a few weeks ago, I got to be a photographer for mother and daughter. I had the pleasure to work with her mother, Stef. And now it was time for Mallori to show herself in all her glory through my camera's lens. As a loving and caring mom, Stef helped her daughter choose the outfits and accessories for the photoshoot. Mallori tried on a variety of looks, from cozy to romantic ones, but my favorite is the retro attire oozing the spirit of the 1970s. The outfit inspired by the era when Mallory wasn't yet in this world perfectly set off her beauty and helped manifest her originality.
It really isn't hard to find a fantabulous dress for your photoshoot. I'm sure that if you rummage through the closets of your older sister, mom, or grandmother, you will find a couple of picture-worthy items. And if dresses are not really your thing, you have a million other options – a comfy oversize sweater, distressed jeans, a flannel shirt, a simple white tee with shorts – the choice is up to you. Just remember that your wardrobe should match the theme of a photoshoot.
2. Prep Up
My clients often ask me about posing. It turns out that many people simply don't know what to do with their arms, legs, and everything else. Of course, I always cue my models on how to stand, sit, or lie. But I would like to share a little hack on how to pose naturally. The secret is to get some prop and it will tell you what to do.
Spice your photos up with this ingredient and they will instantly get Michelin quality. Anything can become your props – large earrings, a hat, your hands would want to fiddle, a scarf, a teddy bear, a bouquet, sports equipment … you name it.
3. Family Pets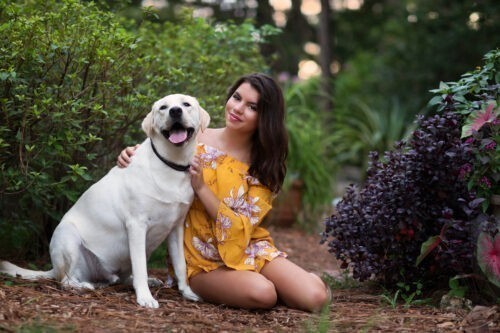 One of the coolest senior photography ideas is to bring your pet to the set. Four-legged friends instantly raise the degree of cuteness and loosen up their humans. Although a pet is not a prop, it kind of performs a similar function, i.e. it helps find the right position for your hands, head, and so on. On top of that, dogs and cats set the mood for a photoshoot and get models to generate the most sincere and warm smiles.
Photographs capturing interactions between pets and their owners are the definition of heartwarming. A picture with your pooch will surely take pride of place in your photo archive.
4. Your Family and Friends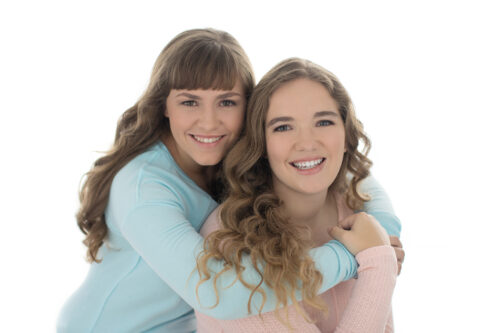 If you'd like to bring your pets with you, why not take the rest of the family as well? Your parent and siblings will love the idea of taking a photo with you. A photoshoot for girls is always a special occasion and it can become even more special by sharing it with the people you love. You don't have to turn a senior session into a family photoshoot, but setting aside a few minutes for group portraits is worth thinking about.
The more people you're willing to share this experience with, the merrier. Now, I'm not talking about regular lineups – such pictures are beautiful but not particularly creative. To make them so, you can come up with some original poses and put other senior photography ideas to use.
5. Fancy Makeup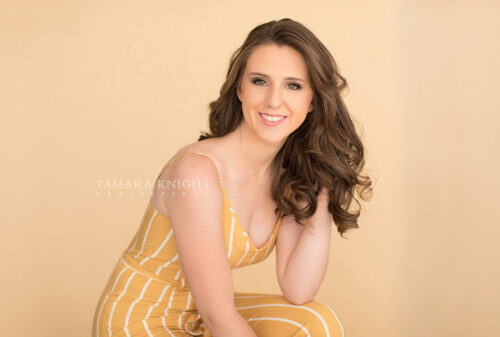 Many photoshoots are focused on the body but your face deserves attention, too. You can even make it the focal point of your entire session. In this case, you can't do without makeup. You've probably seen a lot of Instagram models flaunting vibrant makeup. Well, if you've always wanted to follow suit, a creative senior photoshoot is the best opportunity.
I am friends with some of the greatest makeup artists in Orlando and they can help create an outstanding design for your face. When you look just like those fashion models, your photos are destined to be gorgeous. Plus, you can make all your girlfriends jealous!
Even if the idea of artistic painting on your face doesn't seem appealing, you shouldn't neglect makeup. In the end, it allows you to hide some flaws and highlight your features. If you handle brushes, tubes, and powders like a pro, you can do your makeup at home and it won't cost you a cent. Nude tones will suit almost any girl and any photo session theme. Keep in mind, however, that a photoshoot makeup should be a tad more intense as a camera tends to tone down the colors.
Tamara Knight photo studio is a place where all your dreams of creative senior portraits come true. I love getting to know your ideas and helping translate them into reality. My studio lends a friendly atmosphere for seniors, their families, friends, pets, and extraordinary photoshoot ideas. Let me show you that beautiful photos are a cinch with the right photographer.