A Couples Photoshoot: Do it Just Because!
Every couple does a photoshoot sometime in their relationship. Whether it be engagement photos, wedding photos, or anniversary photos, it's bound to happen. But, why not do a photoshoot with your partner just because you love them? You should!
Do a Couple's Photoshoot just because!
I love doing a couple's photoshoots!
Especially when they are scheduled just because! There are no distractions and the day is so much fun! The mood is always great too. Inevitably, the couple comes into Tamara Knight Studios giddy, full of smiles, and unable to keep their hands off of each other!
That was the story with this fun couple!
Whether a couple has been together 5 years or 50 years, you can always see true love through the lens of a camera.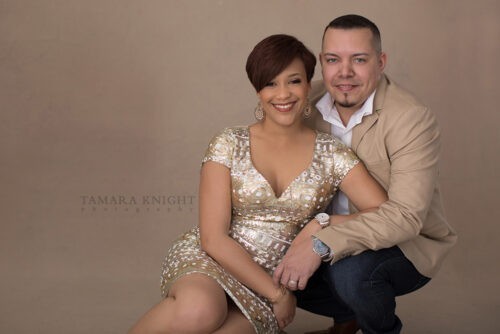 When Business Shoots Lead to Personal Shoots
Kizzy was first introduced to us as one of 5 participants of a magazine cover shoot for a local construction publication.  Read this blog post to see the results of that shoot.
The next time we met Kizzy was for her office headshot update event. Her company was ready to update its website. New headshots and a group image were in order! You can see the resulting fresh and new headshots on their website here!
A Fun Couples Photoshoot 
By the time she finally brings in her beloved Nathan for a special couples photoshoot, this was our 3rd time photographing Kizzy! Nathan got some updated headshots while he was in the studio as well.
Some of the details that make these images great care in the selection of wardrobes!
The lace detail on Kizzy's sleeve, the gold dress with a subtle pattern that also shimmers, and the boat neck peach sweater were the perfect picks!
His velvety-textured jacket and sharp lines in all the jackets made Nathan shine.
These two are one of those aforementioned couples (giggly, hands all over each other, etc…) and it shows!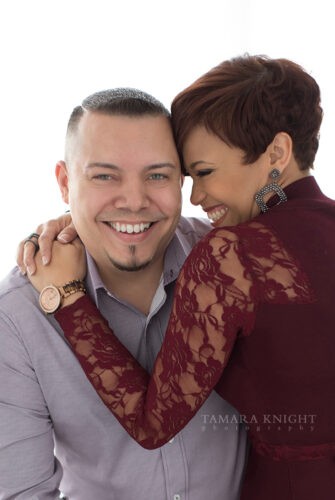 These are some of the selected images and more at their preview session!
After they purchased the session, they upgraded and received a collection of photos in a keepsake folio box.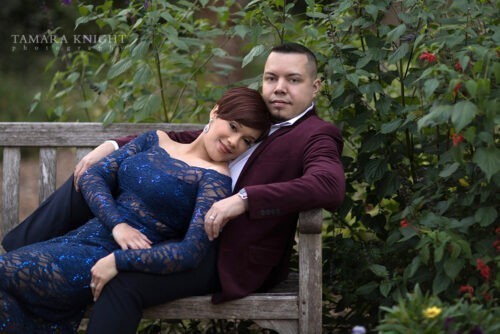 While we can only hope this beautiful couple ended up dancing the night away….this session ended up outside in one of the local gardens.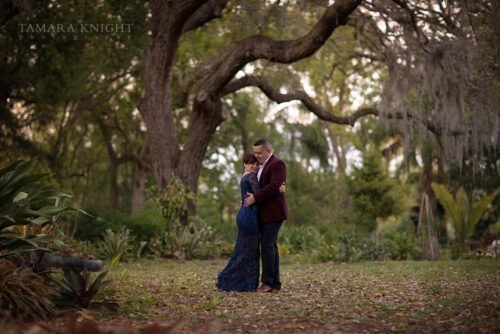 After the main couple of photos were taken, they requested to have some individual portraits taken and I was so excited- of course! They look stunning!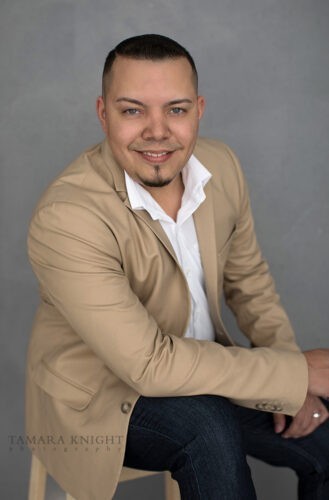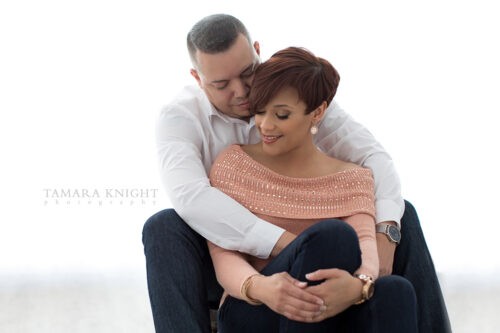 Professional hair and makeup is always included in the Tamara Knight Photography experience!
The fantastic Caroline Van Haastert [@makeupbycarolinevh] was the artist at this session.