Birthday Photographer- Celebrate Your Beauty!
A Celebratory Birthday Session with Sandrine
Orlando's birthday Photographer for the day  – This birthday session was so much fun for so many reasons!
And yes, this January baby is one of the first we have met to hit that milestone this year.
We were floored, to say the least when we heard why Sandrine wanted to have this photo shoot.
50 looks amazing on her! And she enjoyed her experience as evidenced by this raving Facebook review:
"So today I had my appointment to pick up my beautiful Portrait Prints from Tamara Knight Photography… Can you see the unexpected special touch that came with it?? Chocolate, Yayyy !!! Every appointment I have had with Tamara has been truly amazing!!… On the actual photo shoot day, she had Chardonnay Wine, Cheese, Strawberries and other snacks just for me!!! , Tamara Knight, I love you! You're the Best!!"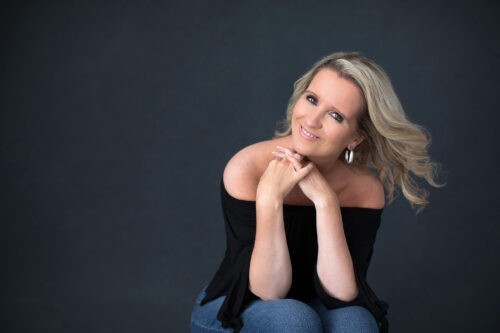 This mother of two grown sons wanted to celebrate herself and the life that she has created so far. How could you not feel great about yourself after seeing these images?!
Sandrine came into our studio after an acquaintance had a photoshoot with us. You can see images from her shoot here. Subsequently, their organization FABCO hosted an event at our studio.
Milestone Birthday Photography Session
The last time Sandrine was in front of a camera that was meant just for her was in her 20's. It was a Glamour shots experience. Remember those ladies?! Otherwise, she loves to pose for pictures on all the fabulous cruises she likes to go on!
Milestone birthday sessions are the best because it's a great time to compare the minor changes!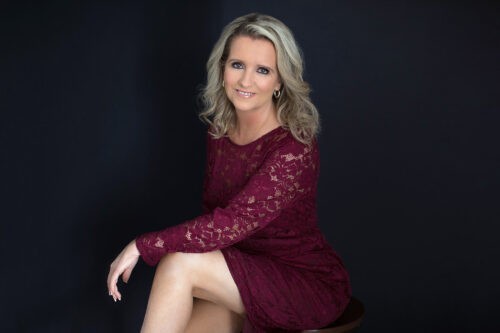 A Birthday Session To Remember
Sandrine brought lots of outfit options for us to capture! This gave her so many favorite pictures it was hard to narrow them down. We love this classic burgundy lace dress. It has so many dimensions that make it a perfect choice for portraits.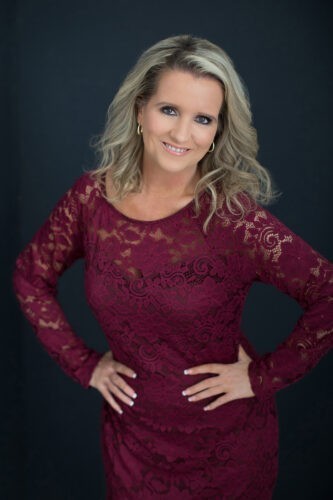 The black and denim combination is always a winner. Add an off-the-shoulder neckline and it's an instant classic!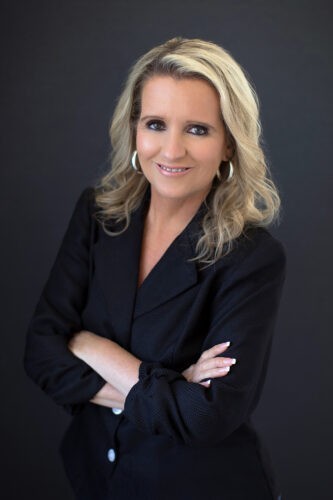 It's YOUR Birthday Session- Allow Me to be Your Birthday Photographer!
I will often say "No prints!" during our planning session. However, if a client really wants something or it has a special meaning I am always willing to incorporate it. Remember, it's your party! Wear prints if you want to!!
That was the case with this Eiffel Tower print shirt, I mean…that's AWESOME!! This casually beautiful pose will make sure this image remains timeless. We took all the photos in the Tamara Knight Photography studio. However, you have the option of going anywhere you want! She absolutely looks great for her birthday photographer!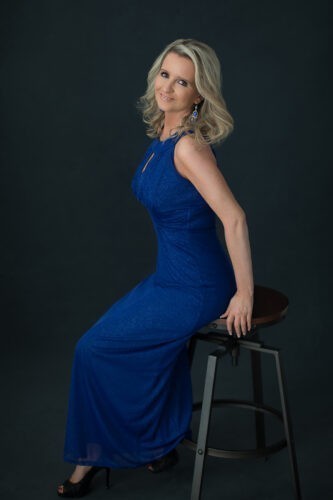 The simplicity of this blue dress is its elegance! This bold color combined with a little sparkle is the perfect match.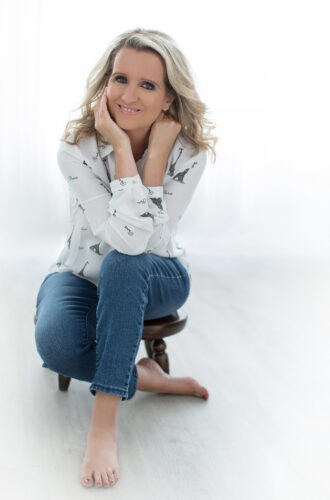 The Tamara Knight Photography experience always includes professional hair and makeup! The amazing Evelisse Hahn was the artist at this session.
Find her on Instagram: @makeupbyevelisse
---
Do you have a milestone to celebrate? A photograph is the best present for any occasion – it is a timeless capture of an existing moment.
Book your session today with a call 650.218.2417 or e-mail [email protected]
View my headshot gallery on my website at www.tamaraknight.com.
We are the Premier Orlando headshot photographer of the Greater Orlando area, Winter Park, Baldwin Park, Windermere, Kissimmee, Apopka, Oviedo, Lake Mary.