Your First Photoshoot: Tips to Look the Greatest
 Why Your First Professional Photoshoot is not a Whim
How many times have you stared at stunning photographs and dreamed of becoming the hero of your own photo story? Well, the good news is that you don't have to be a model or a movie star to have some nice headshots. Today, photo sessions are available for everyone. All you have to do for your first professional photo shoot is to invest a bit of your time and effort to find a photographer who shares your vision. And when you find him or her, it will be your turn to wow others with your pictures.

Photoshoots to Raise Money for Charity
Kerry knew that her first photoshoot with a professional was long overdue. Therefore, when she saw a session donated for a charity auction, she seized this opportunity with both hands. It was a win-win situation: raise money for a good cause and get great pictures as a gift for herself.
As an aside, I like donating my photoshoots to charities.
First and foremost, they help reinforce relationships through a common goal and do some good for our community.
And secondly, they let me come across so many great people.
First Photosession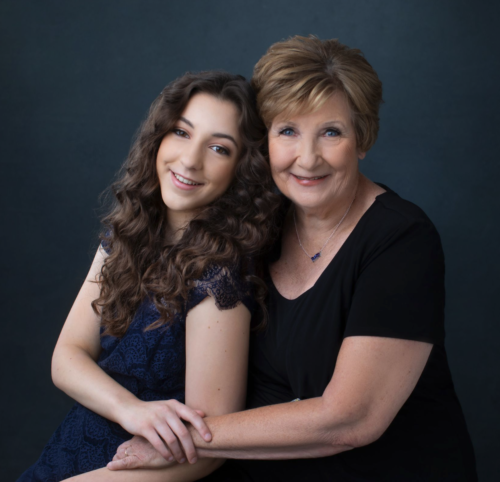 Both ladies were thrilled to finally get some awesome pictures, and not just selfies but thoroughly professional portraits. High resolution, high-end, and high quality, these 'highs' are what distinguish pro photos from those you take on your phone. And this was exactly the reason why Kerry desired to have a real photoshoot, especially for her little daughter.
Their First Photographer
I was proud to be the first person to show them the fascinating world of photography. Hopefully, this brief peep behind the scene will inspire them to get more pictures together. After all, photographs are happiness frozen in an instant. So, the more you have them, the better.
For Kerry and Alana, their first professional photo shoot was a chance to show a connection, a deep bond only a mother and daughter can have. Just cast a glance at their photos and you will see it clear as day. Besides, a session is where you can flaunt your most fabulous dresses, get your hair and make-up done, and all that jazz. Ladies always appreciate occasions when they can dress up and look like a million dollars. At least, these two ladies were on cloud nice all the shooting long. Seeing their happiness is what makes my job rewarding.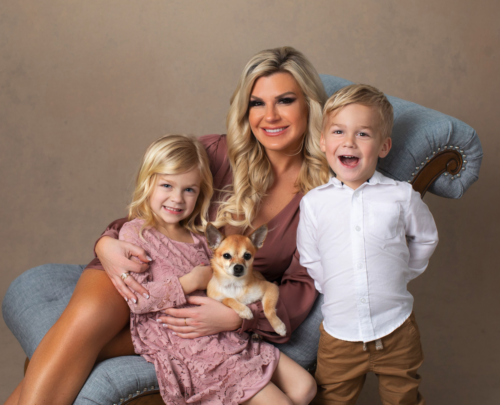 Many people believe that taking a photo is a no-brainer. You grab a camera, put a model in front of it, push a button, and it's done. Whoever thinks that couldn't be more wrong. A photograph that mesmerizes requires much more than photo equipment and the right moment to release the shutter.
It is a creative vision, thinking outside the box, and the ability to generate exciting ideas that turn a digital image into a piece of art. When a regular person sees some old log, photographers see a cool prop. They understand (or, rather, feel) which poses will enhance the beauty of their models. They know how to make them feel at ease and relaxed. Photography is an art, hard work, and a state of the soul. That's why not everyone is destined to become a good photographer.
All the Necessary Gear!
Photo gears are important, too. Have you ever thought about why photographers spend thousands of dollars on fancy lenses, new cameras, lighting kits, reflectors, and all this stuff? It is not because we want to boast that we have the coolest gizmos. These gears simply are a must to have perfect images no matter the ambiance and lighting conditions. You, the clients, are worth having the best pictures. The absence of unwanted glare and shadows, the correct color rendition, and amazing clarity are the secrets of fabulous photographs. Therefore, we cannot do without professional photo equipment. Unfortunately, you can't achieve the same with your phone or an inexpensive camera no matter how creative you are.
If you want to see the difference between good and great pictures, just go to a professional photoshoot. A few hours spent in a studio can become a life-changing experience.
Tips Before You Go to Your First Professional Photoshoot
They say forewarned is forearmed. There are no reasons to be on the alert when it comes to photo sessions but the information is the key to getting the result you envision. First of all, you need to learn more about your photographer. Do they prefer shooting indoors or on location? What are their 'trademark' photographs? Do they have contacts of trustworthy make-up artists, hair stylists, or dress rental places?
At the same time, you need to talk to your photographer about your expectations and ideas. He or she will let you know how doable they are and what it takes to accomplish them. Maybe you need to practice some poses at home or bring props with you. Also, keep in mind that not every photo studio is pet-friendly, so you need to enquire about it before you take your four-legged friend with you.
It is worth spending a bit of your time to google some awesome ideas you'd like to recreate in your photos. Or come up with something on your own, it's even better. Finally, decide whether you want a headshot, a family portrait, or maybe a group photo with your friends. Your kith and kin are an excellent source of inspiration and a good mood. Besides, it won't be scary if you have your first photo session with people you know.
Tamara Knight Studio for Your First Photoshoot
As a photographer by trade, I am convinced that photoshoots should bring only positive emotions. If you have any concerns or fears, I will make sure to dispel them long before the big day. Just share your ideas or let me suggest something from my perspective and we'll come up with the best strategy for excellent photos.
No matter how old or young you are, it is never too late (or too soon) to get your first professional photo shoot. My studio welcomes people of all ages, great and small, as well as their furry friends. If you enjoy the great outdoors, I am all for taking your pictures en Plein air. I am up for everything that makes you happy, both with the process and the result. So, put your concerns aside and let me be the artist to make your first professional portrait.
---
Are you ready for a generational portrait?
A photograph is the best present for any occasion – it is a timeless capture of an existing moment.
Book your session today with a call 650.218.2417 or e-mail [email protected]
View my headshot gallery on my website at www.tamaraknight.com.
We are the Premier Orlando headshot photographer of the Greater Orlando area, Winter Park, Baldwin Park, Windermere, Kissimmee, Apopka, Oviedo, Lake Mary.