Phenomenal Family Photo Session
Memories in the Making
We had an excellent time during our family photo session with little miss Sophia, her parents, and their dog Lexi! This family blew us away even during the in-home consultation – so much love they have for each other and so many ideas for this session.  Stacy said she had to do very extensive research trying to find the right Orlando photographer for her family. And we are very happy she chose us!
Our shoot was a two-part shoot. The first one was very athletic, with Sophia in her cheer kit so she could get some cheerleading-based headshots.  Check out this flexibility – and she's still able to keep a smile on her face!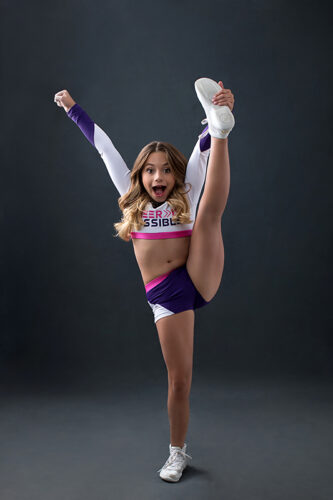 The second half of the shoot featured a lot of little beauty Sophia in solo poses, then we did a short family shoot wherein the ladies were dressed quite formally. Sophia is a natural model – she models for Cheer is Possible, a worldwide cheer brand based in the UK!  She's also an Allstar cheerleader at Top Gun Allstars Orlando *and* is a good student.
Sophia's mom, Stacy, brought some absolutely gorgeous, fairylike dresses and accessories for the second part of the shoot.  She wanted to capture Sophia's sweetness at this time in her life. Every piece Stacy brought out had us asking, "does this come in adult sizes???"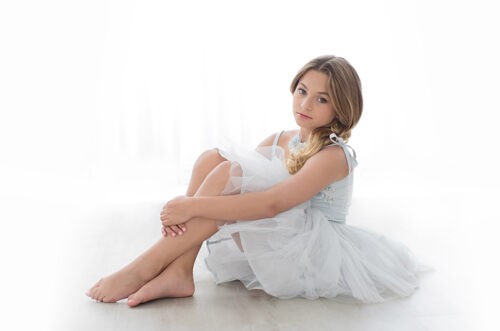 What little girl doesn't want to wear tulle, sparkles, and tiaras? THIS girl is living her best life!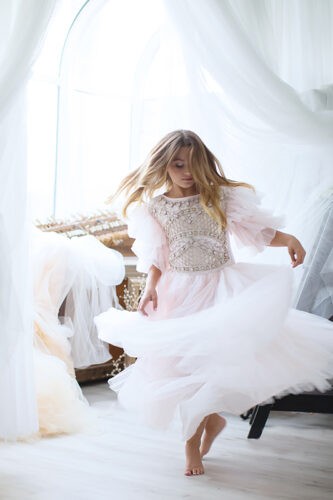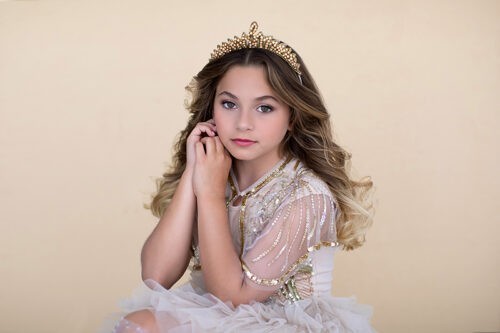 Dad,  Jeff, arrived a little while after the shoot started and he had a surprise with him: little miss Lexi!  Lexi is a three-year-old Cavachon, born on July 4th. She is the sweetest breed with the softest fur.  It was hard to let her get pictures with her family because we just wanted to cuddle her!  Just look how much this little dog is loved.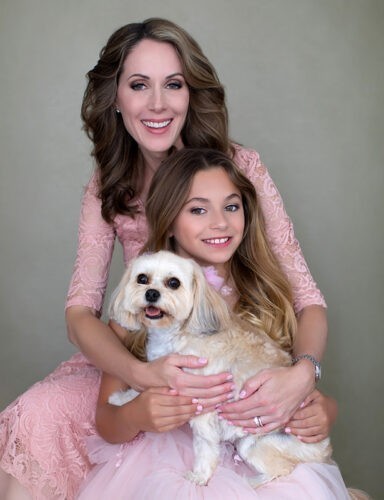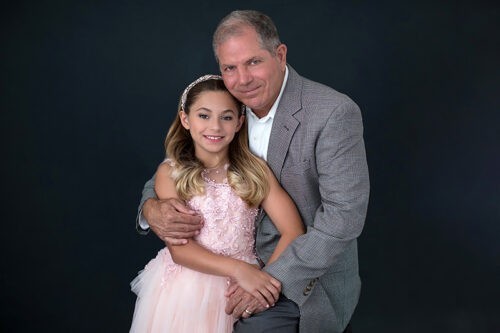 Speaking of dad, we got some sweet shots of Sophia with her dad and we just love them!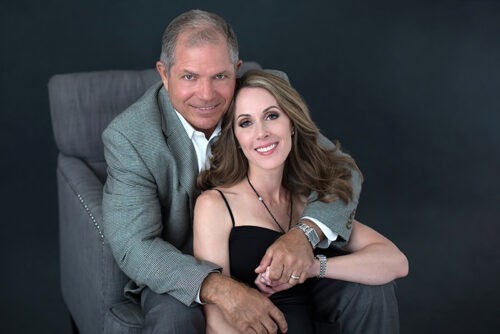 Of course, we then had to get a few of mom and dad only (such a gorgeous couple!).
After we finished up in the studio, we went out on location!  The family wanted some outdoor shots so we went to our go-to spot for those and got some pretty incredible ones, as you can see. It was evening by this time, which made it much cooler and made for perfect light. We especially love this candid laughing photo as well as this awesome swing photo. (And don't worry about little Lexi – she got to stay in the running, air-conditioned car.  She was snoozing when her family got back to her after our short location shoot.)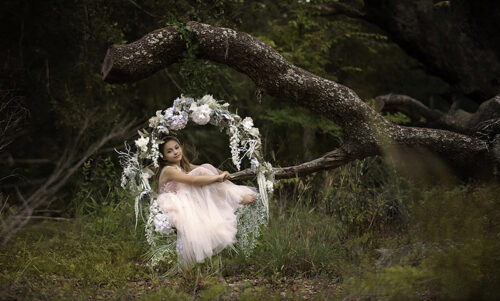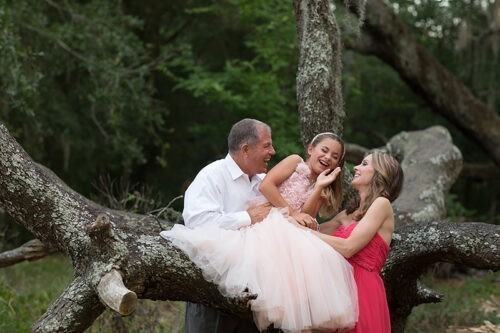 Sophia's family got some of our new wall art styles including a painting and a large framed portrait.  It's all just so gorgeous! The ethereal feel of this shot was emphasized with the painting technique and we couldn't be happier with it.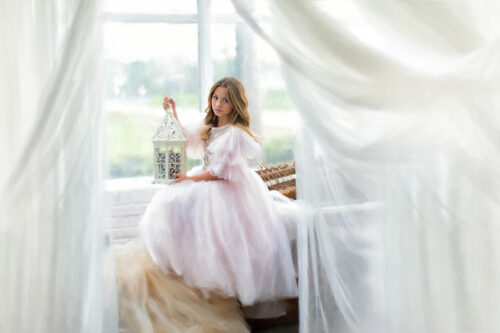 You can follow Sophia on Instagram if you'd like to keep up with her busy cheer schedule.
_________________________________________________________________________________________________________________________________________________
The Tamara Knight Photography experience always includes professional hair and makeup!
The artist at this session was the fantastic Caroline Van Haastert
Are you ready to update your family portraits?
View my family gallery on my website:  www.tamaraknight.com.
We are the Premier Orlando headshot photographer of the Greater Orlando area, Winter Park, Baldwin Park, Windermere, Kissimmee, Apopka, Oviedo, Lake Mary.
A photograph is the best present for any occasion – it's a timeless capture of an existing moment.
To book your session please call 650.218.2417 or e-mail [email protected]