Storefront Photography- Make Your Business Stand Out!
When you have a storefront photography shoot, you make your company stand out and be seen! Tamara Knight Photography can help!
Meet Our Wonderful Clients, the Paper Goat Post!
There is the sweetest little store gaining in popularity in Ivanhoe Village called Paper Goat Post. Tamara Knight Photography scoped it out while looking for a potential host site for our annual Mother's Day charity mini sessions. Eventually, it led to me having a storefront photography session with the owners of The Paper Goat!
Photosession for a Photosession!
The store's aesthetics were perfect for us…so perfect that we didn't even have to haul out the background equipment. The shop in this historic district has an amazing exposed brick wall painted white. It gave us great results, naturally!
I was happy they allowed me to host my charity Mother's Day Mini's here and in exchange, I offered to take some professional pictures of their store to use on their website for marketing material. Who doesn't love a storefront photography session for their own store?!
The Photos from the Storefront Photography Session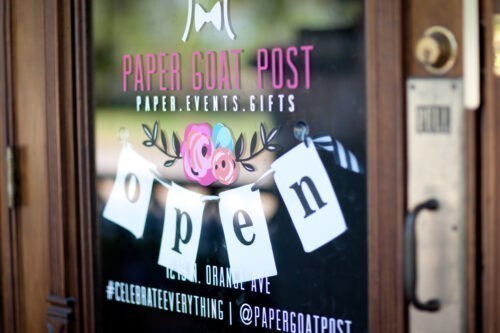 About Their Store
The forward-thinking owners of Paper Goat Post, twin sisters Megan and Cedar Watson, already host special events and other unique workshops in the store so it had the perfect space to host our event. They were so amazing and fun to work with. We couldn't get enough of the funny, handmade cards, the baby gift section, and the unique gifts they have to offer.
Their store is neat, very clean, and just so beautiful! My clients loved it and I was so happy that I was able to give them some images from their storefront.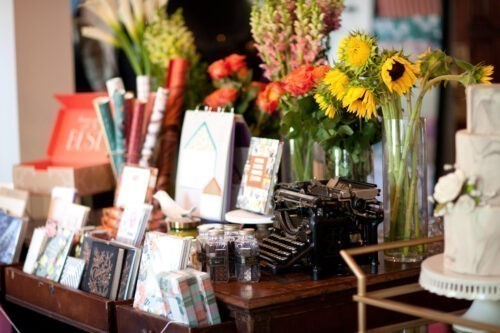 We wanted to know more about the visionaries behind this trend-setting shop so we asked!
Here are the answers Megan gave us to some questions you may also have about this business:
What should a client expect when he/she comes to you?
We celebrate everything (with a little or a lot of paper). We are here to help our customers design the perfect invitation suite, choose a thoughtful gift or find just what they need to celebrate everything. 
Does your business have a stated mission statement, the reason that this business exists?
Yes… we have three PGP Philosophies:
we promote… 
the lost art of snail mail 

gathering in celebration

a thoughtful art of giving 
How has the business evolved over time?
The Paper Goat stays keen to our customers & their needs. This has allowed us to grow in a direction that best services our customers. 
For your company, what makes you so unique?
We have an in store balloon & gift wrap bar. We specialize in our 3 ft "Billy Balloons" which make a fun & unique statement at any celebration. We also have The Studio which is a creative space in our store where we hold workshops & private events. 
What are you most proud of with your business?
That we were able to follow our dreams of sharing our love for paper with others. We had always dreamed of opening a shop and took a leap of faith in 2015 to do just that. We haven't looked back since. 
In the Community, what events do you support or sponsor?
Here at The Paper Goat, we love to pop up at local community events around town. We feel that so many of life's celebrations happen at your home. For that reason, we focus on supporting the local Habitat for Humanity which is an organization that helps build homes for those in need. 
How do people get in contact with you?
 email: [email protected], visit our website: www.papergoatpost.com  or on social media @papergoatpost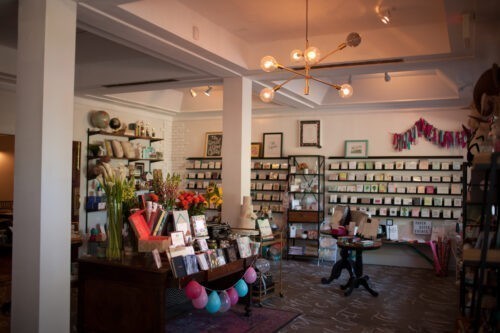 ---
We loved meeting Megan, Cedar, and the staff at this store and you will too! Now that their wonderful company has professional storefront photography, they are able to showcase their business in a different light.
We would like to thank them for allowing us to capture timeless family moments in their beautiful space!
This is an annual thing that we do here at Tamara Knight Photography in order to participate in the greater community around us. However, we do have an amazing studio where we offer full glamour photography sessions!
Contact Tamara Knight Today for Your Consultation about Storefront Photography and more!
A photograph is the best present for any occasion – it is a timeless capture of an existing moment.
To book your session please call 650.218.2417 or e-mail [email protected]
The Premier photographer of the Greater Orlando area, Winter Park, Baldwin Park, Windermere, Kissimmee, Apopka, Oviedo, Lake Mary.