The Significance of Pet Photography: Family Photos with Furry Friends
Someone once said that dogs are the best people. Indeed, how can we not appreciate these adorable, charming, and loving creatures? Dogs (and cats, hamsters, and even reptiles) are our little family members. We give them our time, care, and attention. Take them on family trips, fool around in a park, and do a lot of other stuff together. But there is one thing pet owners often overlook. When they go to family photoshoots, they forget to bring their furry buddies. Don't leave your good boys and girls at home anymore! The doors of my pet-friendly photo studio in Orlando are always open for your four-legged friends. Whenever you're up for pet photography or family portrait sessions with your dogs, I am here to help!
Pet Photography Make Pictures Better
Pets are just like kids. They want to always be around and take part in all our activities. Would you take your actual children to a family photo shoot? Most definitely, you would. But why would you leave your dog or cat at home? Are you scared that they might misbehave? Well, children often act up yet you wouldn't leave them behind.
Maybe you think that your dog or cat will make everything complicated? Yeah, you can't teach them to pose and they might be at a loss in an unfamiliar place. However, you shouldn't take it as a problem. In fact, it is an opportunity. An opportunity to add more dynamic to pictures, make them more natural and alive.
Photographs that showcase you nicely smiling and looking straight into the camera are great for postcards but a perfect picture is more than proper poses and perfunctory grins. Your pet can become a secret ingredient that turns a nice photo into a phenomenal one. It might want to play with your shoelaces, feel in the mood for kisses, or do something that makes you burst out laughing … In any case, this will add a zest to your photos and make them truly special.

Why Pet Photography is Important?
Everybody knows that animals do not like it when we leave them at home. They miss our company and may even get depressed if we don't give them enough attention. Won't you feel guilty if your pet is home alone while you're having fun with your ménage? Pets are full-fledged family members and they deserve to be part of our family activities.
A family photoshoot with a pet is important not only for you but also for your furry friends. For them, it is a chance to spend more time with their humans. Let them be part of something big. Show them the secret of what people do when pets don't see. In return, they will do their utmost to make sure you have the best photos ever!
Keep Fond Memories Alive
Unfortunately, a dog's life is fleeting. They age 7 times faster than humans. They might be around for 10 years, maybe 15, maybe a couple of years more … and then they will remain only in memories. Luckily, you can cement these memories with pet photography. Whether you have a playful pup or a gray-haired golden-ager, sharing the best moments of your life with them is priceless. Even better, you can capture every milestone of THEIR life, from a little ball of fur to a beautiful animal in its prime and finally to a sleepy but lovely senior. Sooner or later, our pets will be gone but they can always stay alive in our photographs.
Entertain Your Kids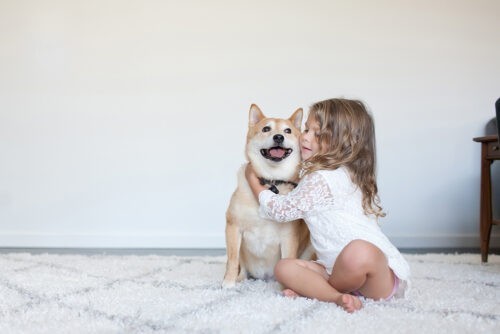 If you take your baby with you to a photo shoot, there is always a risk that they act up or get distracted. One way to keep your little ones engaged is to let them play with their best friends. Children and their pets have a really strong bond. I bet your dog considers your son or daughter to be its pup. It will protect, look after, give its love, and entertain your kids. Joint games will calm them down and let them know that everything is ok, there is nothing to worry about. In a good mood, your daughter or son will gladly pose for photos. In the meantime, a tailed nanny will add a touch of sweetness and warmth to the pictures.
Show Them Your Love
It's no secret that many dog owners love their pets as much as their children. For young families, a pet may become their very first 'kid'. When children grow up and go to college or start their own families, dogs will stay to take care of us. They don't talk but you can tell them your innermost secrets. They support us when we are sad and are always around when we need them. They bring the sunshine into the darkest days. I have no doubt that you love your animal with all your heart and it loves you back. Don't be shy to put your feelings on display. Pet photography is probably the best way to show your dog how happy you are to have it in your life.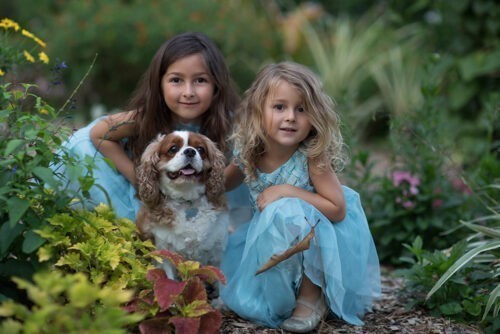 Show off Your Pet
Each dog owner believes that their pet is the best. I am not going to argue with that. However, maybe your good boy or girl knows some tricks, can stand on its hind legs, or have done something extraordinary in their life (saved people in mountains or served in the police, for example). You cannot keep their talents just for yourself. Let the whole world know what a unique animal lives under your roof. Just let your four-legged friends be themselves and show what they are capable of. I will take care of capturing their best skills through pet photography.
Pets are precious! They bring so much joy, both to you as a proud owner and to me as your photographer. I welcome you and your furry pals to the studio and on-location pet photoshoots. Whether you have a tiny kitten, giant Great Dane, or scaled pet, we'll get along!