Blended Family Photoshoot- Fun for All!
Bring Your Bunch Closer with a Blended Family Photoshoot
Blended family photoshoots are always full of excitement. The larger a family, the merrier. Families at scale are really rich and I am not talking about money. They are rich in happiness and laughter, which seem to increase proportionally to the number of children. Although working with modern-day Brady Bunches adds an element of frenzy, I am always fascinated by their group dynamics. It mesmerizes me to see how people of different backgrounds, upbringings, and personalities get along when living under the same roof. When I got a call from one of these large blended families, I knew I am going to be in for a treat.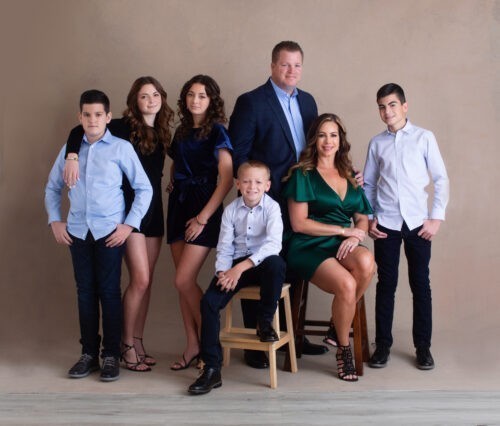 Monica, Andy, and their Bunch
Monica is a proud mother of two beautiful daughters from a previous relationship. Andy has three wonderful sons. Together, they became that rare type of family where children outnumbered adults. In a world where large families get few and far between, Monica's and Andy's bunch is a happy exception.
As with any blended family, their life is not always carefree. Surely when you blend so many unique personalities, getting an explosive mixture is only a matter of time. Fortunately, Monica, as a sagacious mom, knew what to do to render it harmless. Her plan was to get a blended family photoshoot and bring the kids together. When everyone is involved in something enjoyable, there is no room left for tension. On the contrary, an opportunity to dress up, have a good laugh, and interact free and easy is really rallying. In a way, a photoshoot is like a tool to merge individual pieces into a single whole – a true family.
Needless to say, the kids liked every second of this bonding experience. The girls and the boys gladly posed in their coordinating outfits and enjoyed being in the spotlight. At this moment, everyone spoke the same language, and this language is called love.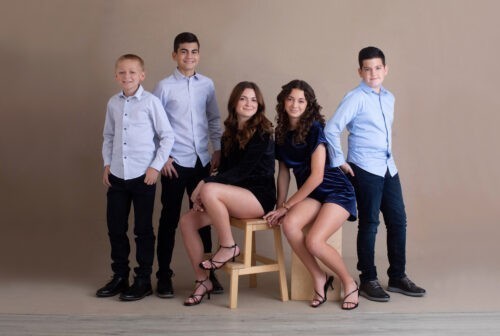 Blended Family Photoshoot to Get Individualities Emerge
In large families, kids are not only a set of people but also a set of individualities. When the number of siblings multiplies in an instant, it's so easy to feel left out. But that's not the case in this family because Monica and Andy encourage their youngsters to be themselves. Using this mixed family photoshoot as a platform for self-expression, they nudged the kids into disporting themselves.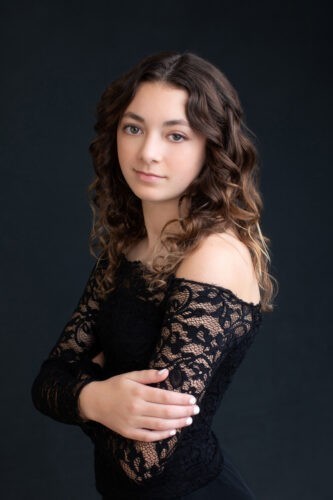 Apart from group photos, each member of the family got their own ten minutes of glory. They could bask in the limelight and pose in a way that lets their personality shine through. And, most importantly, the children took pleasure in interacting with their new siblings and stepparents and vice versa. There can't be someone else's kids in a family, and this party of seven proves it.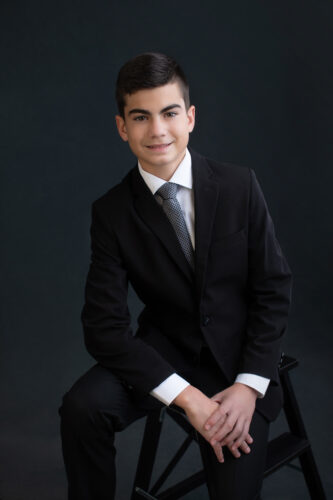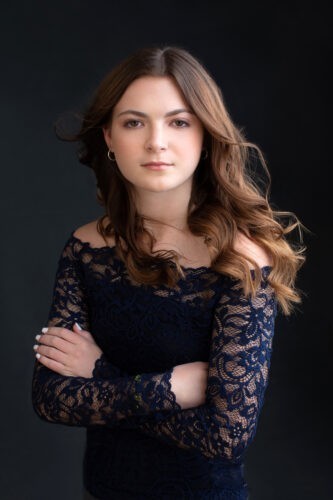 After the photo shoot, the kids got a small reward for being so awesome. They each picked their favorite portrait and we made a medal print out of it.
Family is More than People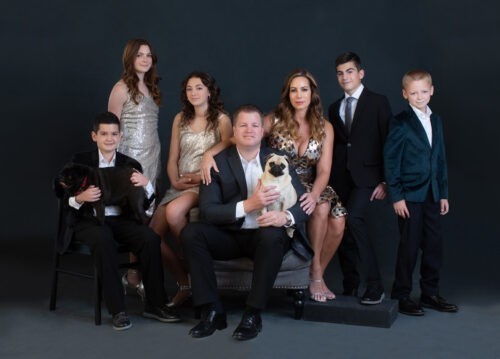 Many people see families as parents and kids. But for me, a family is everyone who makes us happy. Pets are one of them. If you're proud owners of cats, dogs, and other feathered-furry-scaled brutes, don't hesitate to invite them to your photo session. They'll be happy to take part in everything you do. And you'll enjoy seeing them next to you in your group portraits.
This family did not leave their pets behind when they set off for the photo session. How can anyone forget about their best friends? No, not like that, how can anyone forget about their family members? Every dog owner will confirm that pooches are more than animals. For adults, doggos are their little babies, and for kids, they are younger brothers or sisters. In a way, pets are a perfect representation of happy blended families. They are different, they are not exactly flesh and blood, but they give endless love to their pack and they get it returned.
In this blended family photoshoot, two cute pugs took pride of place alongside their humans. Is there a way to make family portraits even more candied and touching?
Photoshoots for Families Small and Large
Looking for a way to unite your blended family? A photo session will come in handy. Show your stepchildren that you care and appreciate them as much as your own kin by offering them something they will enjoy. A joint photoshoot is the best way to spend quality time with your ménage and create warm memories that last a lifetime.
A blended family photoshoot is a great opportunity to let your sons and daughters know that their voices will always be heard. Why not let all of them decide how to pose and what to wear? This way, each can display their personality and have an individual portrait. When sharing parents' attention with so many siblings, kids might struggle to stick out. Giving them a chance to express themselves will help you win their hearts.
But of course, a family photoshoot is unimaginable without group portraits. It doesn't matter whether you choose a matchy-matchy look or uncoordinated outfits (because who said that families should do everything in the same way?), the most important thing is that harmony and peace permeate through your bunch. Even if your family is typically a bit chaotic, a photoshoot might be that rare opportunity to put differences aside and emotionally connect.
No matter if your family is large or small, I welcome you to my photo studio in Orlando. My doors are open for family pets, too! Do not miss your chance to build a rewarding relationship and bond with new family members through fun photo events. Your kids will appreciate your efforts! Learn more about how to choose the best photogrphare