Mother and Son Photography
Capture portraits of your sons before they're all grown up! 
We always say how tender and sweet mom and daughter photoshoots are. They reveal the strongest bond between loving people. But what about moms and sons? Can't they have some nice photos? Sure, they can! Pictures that capture moms with their sons are beautiful in their own way. Instead of being sweet and tender, they carry strong energy, dynamism, and exuberance. Still, they are heartwarming and touching. If you're a mom of boys, don't be afraid to show your love and affection to your rascals. Book your mother and son photography session!
Alison and Her Boys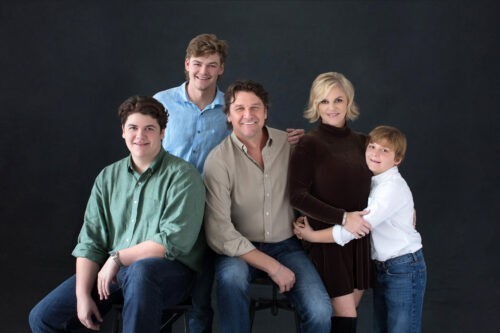 Having a boy is a lot of fun! Life with a little mischief-maker is full of adventures and excitement. The more boys are growing in the family, the more surprises await you. Alison, the heroine of this photoshoot, will never exchange her boisterous life with three sons for something quiet and slow-paced.
As the only girl in her family, she enjoys getting all the attention. Indeed, she is surrounded by not one but four gentlemen: her husband, and 3 sons. No doubt, her boys adore their mom and treat her like a queen. And she surrounds them with care the way only a mother can. This love feels almost tangible when you look at their pictures. I am so proud to be the one to create these cheerful family portraits.
It is not the first time I teamed up with Alison and Frank. A while back, the couple took on me for a business photo session. Working together in real estate, they needed a few branding photos and they were really pleased with how they came out. So, when they came up with the idea of having a family photoshoot, they chose me again. I like seeing new faces in my studio but when clients return for more, it makes me feel that I get everything right.
Mom of Boys | Mother and Son Photoshoots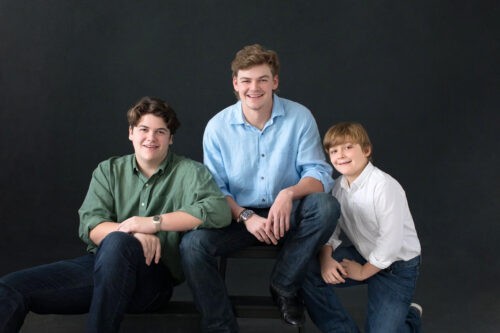 Mother is a special person in the life of every boy. She is a source of tenderness and pure emotions. A mom teaches him what true love is – unconditional, sincere, infinite. Sons, in turn, love their mothers with all of their hearts. They want their mom to know that she is the best person in the world. They want to smother her with kisses and hugs and gratify her in every way they can. When a mother-son relationship is filled with sincere feelings, they become the happiest people on earth.  A mother and son photography session is perfect!
Wouldn't it be great to immortalize this connection through photographs? Mother and son photography portraits with you and your boys together are priceless. They become dear to your heart keepsakes, memories of your loved ones when they were teeny-tiny. You will never lose a bond with your sons but as they grow, they inevitably change. With time, they might get shy to show their love in public. They won't be holding your hand anymore. You won't be able to pick them up. If you know you'll miss those things, you can at least save them in your memory. Every time looking at your family photographs, you'll bring to life these precious reminiscences.
Whether boys are just a few days old or are ready to become family men themselves, they think the world of the woman who gave them life. They will never get too old for photographs with their mom. They will stand proud next to her ready to protect and support them. They will share fun and laughter with that woman who matters the most. Photographs with your sons are the best way to preserve the sense of affinity.
Photographs with Your Boys
When it comes to mother and daughter modeling for family photographs, they enjoy wearing the same-style outfits and looking like beauty queens. A mom of boys can also pick some matching clothes for herself and her little one. The coolest way to assemble your photoshoot wardrobe is to make it reflect your hobbies and interests. For example, if you're into sports, identical jerseys will hit the spot. If you instill in your son a love of fashion from an early age, you can go with edgy outfits, leather jackets, and jeans, for instance. Checkered shirts are a go-to solution for every family photoshoot. They let you look relaxed, easy-going, and natural.
You can show your hobbies and favorite joint activities in many other ways. It is always a win-win situation if you take your bikes and go on a little adventure. A day spent in the lap of nature creates a lasting memory in itself but with a bunch of amusing photographs, it'll become truly unforgettable. There are many more scenarios for your pictures – when you go fishing, play a ball or simply fool around – it's so easy to pick something that suits your family's character. Indoor photoshoots are great, too. When you want to focus on your feelings and emotions, a cozy and relaxing atmosphere works the best.
Professional Photography for Moms and Sons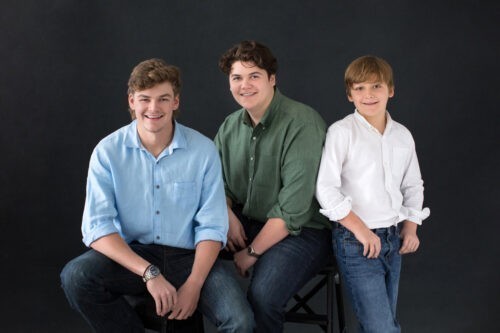 If you're a mom of boys, a joint photo session is always a good idea. And if you turn it into a tradition within your family, it is even better. Watching how they grow and mature is worth the world. We don't always notice how they transform but pictures are able to capture every change they go through. Just imagine how nice it would feel to leaf through your photo album and evoke the memories of them being so small and sweet. If you need more photographs for your family chronicles, don't hesitate to call and book your session with me.
Pictures taken in my studio or in any location of your choice are sweet reminders of happy minutes spent together. Let these photos bring you back in time to relive the joyful moments again. I'll be waiting for you with my camera standing by to help create many more fond memories.