Dance Photography: Capturing the Fascination of Motion
Beautiful, talented, creative, unique – these are the people captured by my camera. It's an ultimate pleasure to document their stories with the power of photography. Vibrant personalities always leave everlasting memories. This time, I crossed paths with wonderful and vibrant Caroline, and her dance skills just blew my mind. It was a blessing to have such a talented and passionate person as my muse.
Looking ahead, our joint efforts brought a spectacular result. Please take a moment to appreciate dance photography featuring fascinating Caroline and yours truly behind the scene. This dance photography session is one to remember and it was an honor to capture Caroline and her grace!
Life in the Rhythm of Dance
Caroline is an aspiring and ambitious young dancer. Her life would be incomplete without moving to the beat of the music. Being able to express her feelings and emotions with a swing of her arm or tilt of her head is her greatest joy. For as long as Caroline could remember, she has always wanted to spend her life in dance.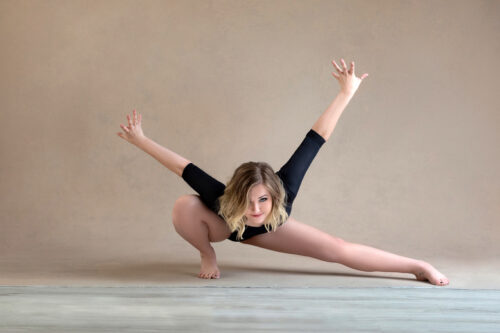 Flash forward several years to 2021, Caroline is a student in one of the best dance colleges in California. She had to move back to Florida because of the pandemic in 2020, so her college went online. She graduates in a few months and it means her dream of becoming a professional dancer will soon come true. So many wonderful experiences and meetings await her ahead but in the meantime, Caroline desired to mark her upcoming graduation. As someone who has a strong bond with the art of dance, she decided to celebrate by plunging into another art, the art of photography.
Beautiful Caroline Getting Ready for Dance Photography Photo Shoot
Before Caroline wound up in my photo studio, she never had a professional photo session. Anticipating one of the most exciting experiences of her life, she wanted to go all out and make the most of it. My extensive photo service package came very in handy for Caroline. It included not only professional photographs and touch-ups but also hair and make-up by fantastic Evelisse. Caroline was so impressed with Evelisse's magic that she couldn't get enough of it. She ended up getting two hairstyles for two of her looks.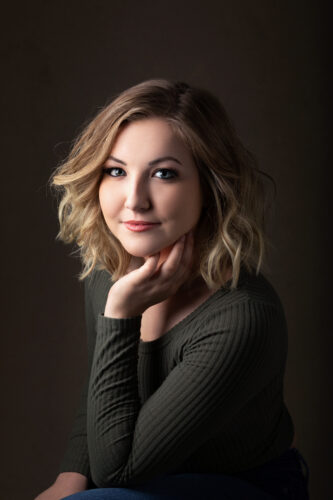 Visual Treat of Motion
Dance photography is a special happening in the professional career of every photographer. Dancers are the embodiment of grace, which as if came to life and got a physical body. They are the phenomena of nature itself – fascinating like fire, swift like wind, and gentle like water. Seeing them 'at work' is unbelievable, I can hardly describe it with words. Luckily, when words are powerless, photographs come to the rescue.
Dancers are perhaps some of the best subjects. They know their body to the last cell and are capable of doing things that I can't even imagine. They can do the splits, bend over backward, or lift the leg over the head – no problem. Dancers do not have to use any props or over-the-top wardrobe because their body provides everything needed to capture attention. These delicate ladies seem to have some sort of superpower that commands the room and makes it impossible to take the eyes off them.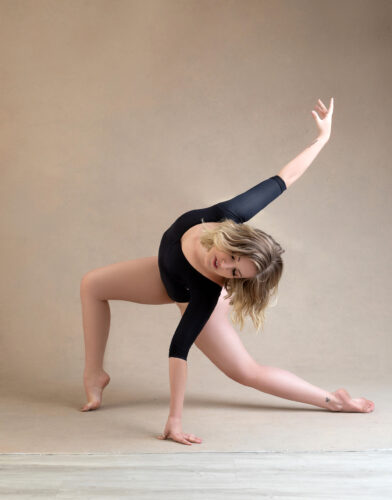 Professional and Sexy
Caroline is about to start her career, and can you imagine a professional dancer without a portfolio? I can't. So, Caroline needed photos showing her skills and focusing all the attention on her body and unbelievable things it is capable of. Both Caroline and I are proud of these photographs for her portfolio. Professional, clean, and sincere- just what she needs to stand out. I predict employers vying with each other to make this amazing dancer part of their team.
Caroline is going to have a long and successful career ahead – there is no doubt about that – but for now, she wanted to linger in the limelight. Portfolio photographs are important but what about pictures just because, pictures where she could be herself without trying to impress a future employer? We got them, too!
For her second look, she picked a stylish outfit with a jaw-dropping plunge and complementing high heels. What a stark contrast to her dancing photos! While displaying strong sexuality in these pictures, she is so pure and innocent when dancing. Despite so incredibly dissimilar images, one thing remained unchanged – Caroline is a study in fascination.
Evocative Dance Photography
Can't imagine your life without the freedom given by dance? Want to show off your talents and the beauty of your body? Then why do you not have photographs that capture you moving in dance? You need to remedy this omission!
My photo studio is a friendly space for all in love with the art of dance. Whether you want mesmerizing mid-motion pictures for your photo album or you need to fill up your professional portfolio, I've got you covered.
Indulge yourself in mesmerizing shots that freeze the incredible grace of your body in time and space. They are a worthy tribute to all the hard work that honed your body and ennobled your soul. Dance photography is always a great gift for every danseuse whether she is young or recognized.
My team and I, Tamara Knight, are looking forward to seeing you at my Orlando photo studio. Your skills deserve to be immortalized digitally and on paper.