Formal Family Portraits – Capture Elegant Moments in Time
Getting the family together is difficult, but for an elegant and formal family photoshoot, it is fun! Dressing up, picking outfits, and smiling for the camera brings the good times out for everyone!
Meet the Patels! The family's most recent previous photoshoot with a different photographer was a good experience. Since it was outdoors, and their little boy had some allergies which made his experience less than fun, so they decided it was time to update their formal family portraits! Arti also wanted to update their photos to highlight a milestone birthday both for herself and her daughter.
Where to Begin
The Tamara Knight Photography experience begins with a consultation before your shoot, usually done at your home, where Tamara will help you decide on a color palette/choose your wardrobe.  She will also explain the details of the photo session and process.  For the Patels, it was decided to use a springtime color palette for the first half of the session, moving to a darker palette for the second part of the shoot.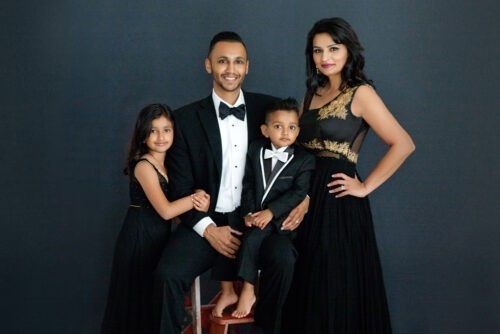 She found out about Tamara Knight Photography through family friends (see Swati's review below). Our business was built on referrals and we truly value each and every referral we receive.
I absolutely loved our photo session with Tamara. She is such a professional and really knows how to bring the best out of all of her clients. I was so pleased with all of our family portraits and will cherish them for a long time. She especially makes us women feel so comfortable in front of the camera, and her hair and make-up artists do such an amazing job preparing you for the session. Loved all of it!   ~ Swati P.
The day of the shoot begins with a hair and makeup session with one of Orlando's top artists.  She talks to you about the look you want for the shoot, how you like your makeup and hair, and will make lipstick change suggestions for the different outfits. The smoky eye/neutral lip is stellar with Arti's blue-grey dress.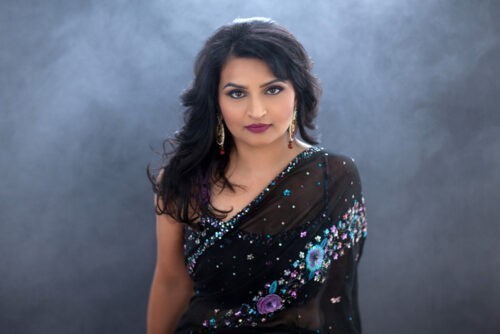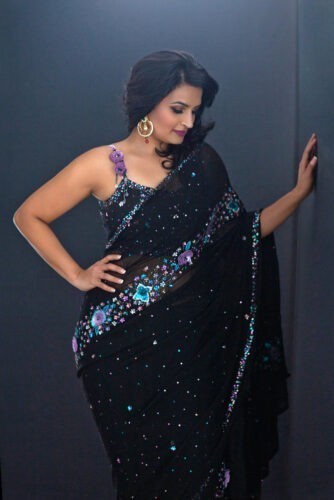 Arti and Vipul wanted to capture the love the family has for each other, as well as the playful bond their kids share. These sweet smiles light up the computer screen.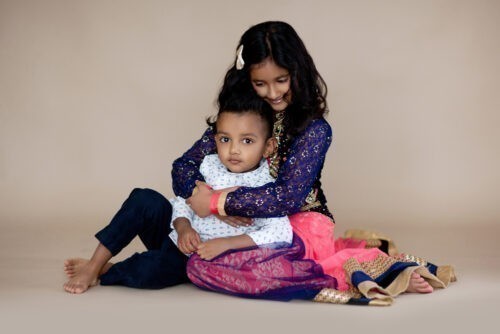 The Patels' sweet daughter is a little springtime sprite in her flower crown and lacy floral pink dress! She is stunning in her formal family portraits. The flower crown she had planned to wear was forgotten at home, good thing the studio has a lot of props – including flower crowns! And the boy looked so cute and grownup in his powder-blue suit, striped shirt, and bow tie.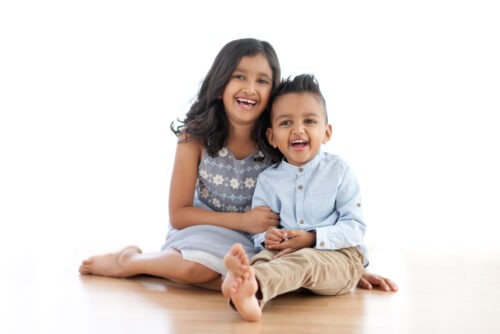 Vipul and Arti have been in Orlando since the late 1990s and love the diversity of Orlando.  Since having kids they especially love the theme parks!  The family recently bought season tickets to Disney and spend their weekends there.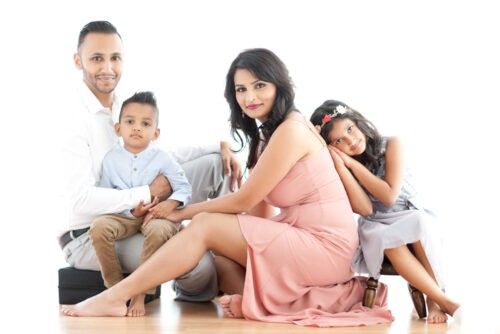 During the consultation, we helped Arti decide on some beautiful traditional saris for the second part of the shoot.  We love to highlight family history so we were very happy she chose to use them in their session!  The reds and golds from both ladies' dresses look gorgeous on the dark background.  We love how stunning everyone looks here.  They're in a formal pose, but you can still see how fun these guys are! The family ordered this picture as a large framed portrait that will grace the wall of their new home.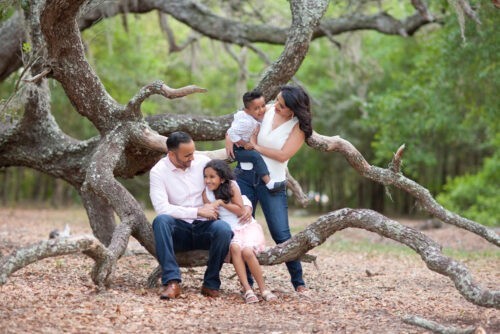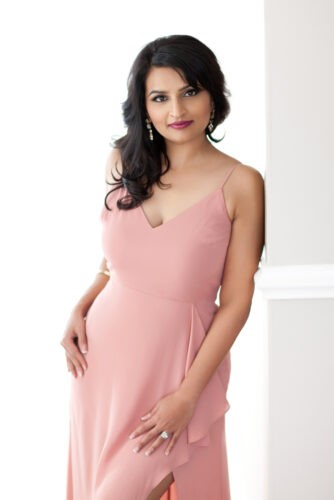 Here's a fun fact about Vipul and Arti:  they were on Season 10 of The Amazing Race (they were actually the first Indian-American team to run it)!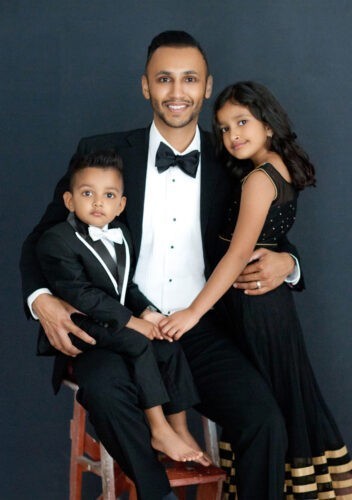 They love to travel and experience new adventures and that's the perfect way to do it!  It was the experience of a lifetime for them, and they still keep in touch with former contestants from their season.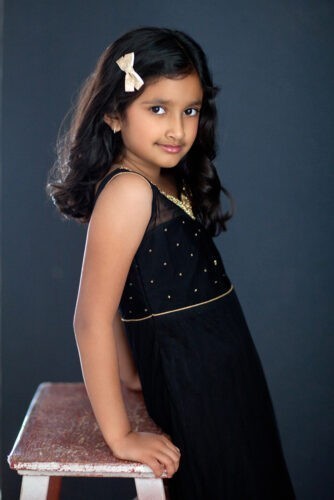 We loved photographing this fun family and it was easy to capture the love they all share. This sweet, playful pose especially stood out to us.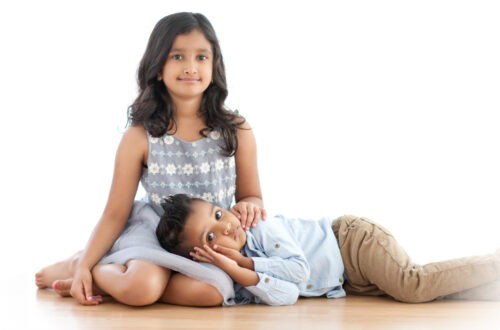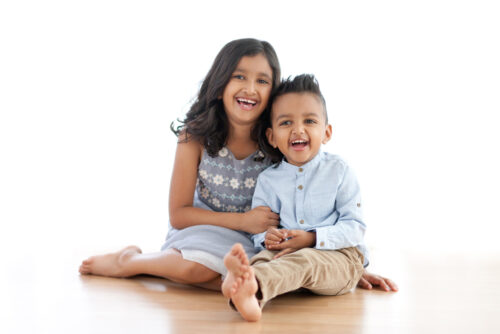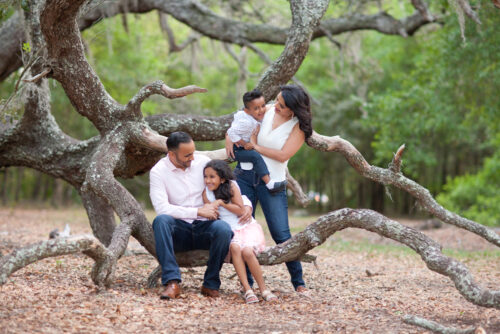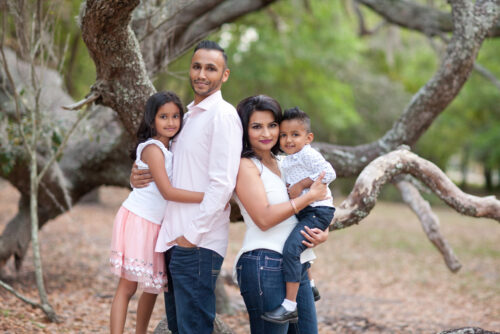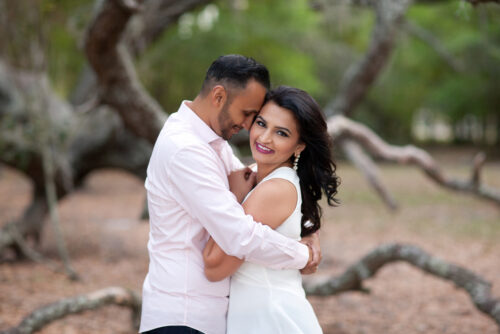 The Tamara Knight Photography experience always includes professional hair and makeup! The amazing Caroline van Haastert was the artist at this session.
Find her on Instagram: @makeupbyevelisse
---
Do you have a milestone to celebrate? A photograph is the best present for any occasion – it is a timeless capture of an existing moment.
Book your session today with a call 650.218.2417 or e-mail [email protected]
View my Family gallery on my website at www.tamaraknight.com.
We are the Premier Orlando headshot photographer of the Greater Orlando area, Winter Park, Baldwin Park, Windermere, Kissimmee, Apopka, Oviedo, Lake Mary