Family Photographers in Orlando
Are you looking for family photographers in Orlando? A Blast that Lasts Big families bring big fun. The more, the merrier is a pretty accurate description of these families. It's a sheer pleasure to work with moms and dads and their many kids. And when adult sons and daughters come with their own children, it's a kind of experience I could include in my memoirs (if I'm ever going to write them).
And trust me, extended family photoshoots are as exciting for my models as they are for me.
Extended Family Photoshoot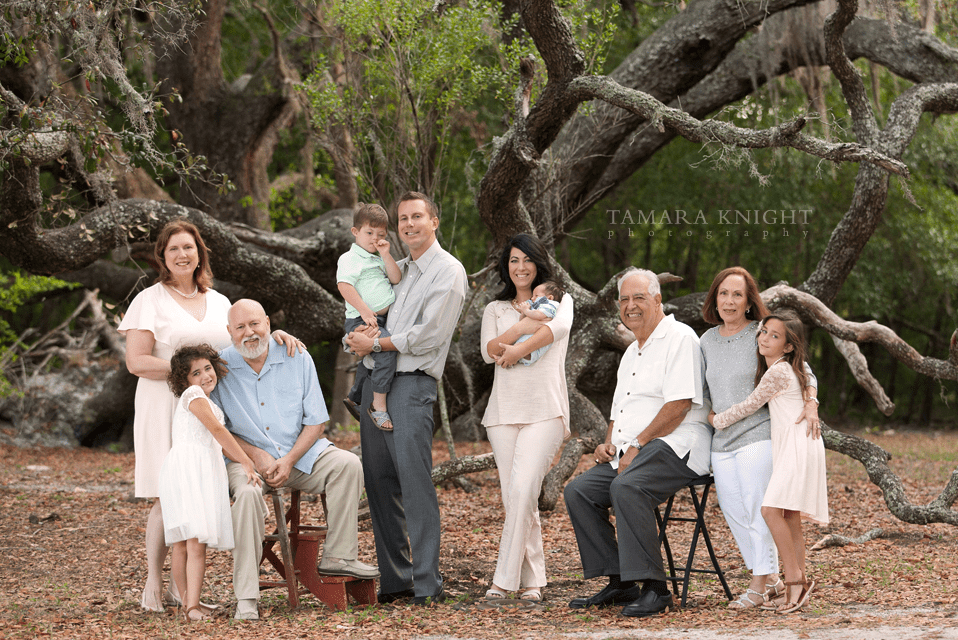 When it comes to this family, parents Shelly and Troy and their four adult children wholeheartedly enjoyed their photo experience. Sadly, the family lost one of their members a few years ago in an accident, but this made them even stronger, even closer-knit. I am sure Shelly's and Troy's son watches them from a
better place and is happy to see smiles on their faces. And boy, did they smile. Their extended photoshoot started in my photo studio.
Men in elegant suits & women in gorgeous dresses, it's an evergreen classic for a family portrait. The oldest son, Tray, expanded the squad even more by taking his family, his charming wife and two kids, Remi, 4 years old, and Kimber, who is only two years old, with him. They got photographs of their nuclear family as well. Two in one, as they say.
In fact, there were more two in ones than that. Shelly and Troy run a successful roofing company in Orlando, and they needed some quality headshots for their business. No sooner said than done, they joined the club of companies that reap the benefits of professional business portraits. If you are also an entrepreneur, don't hesitate to enhance the appeal of your business through powerful visuals.
Especially when you can combine corporative headshots with other types of photography, it's a clever move.
On-Location Family Portraits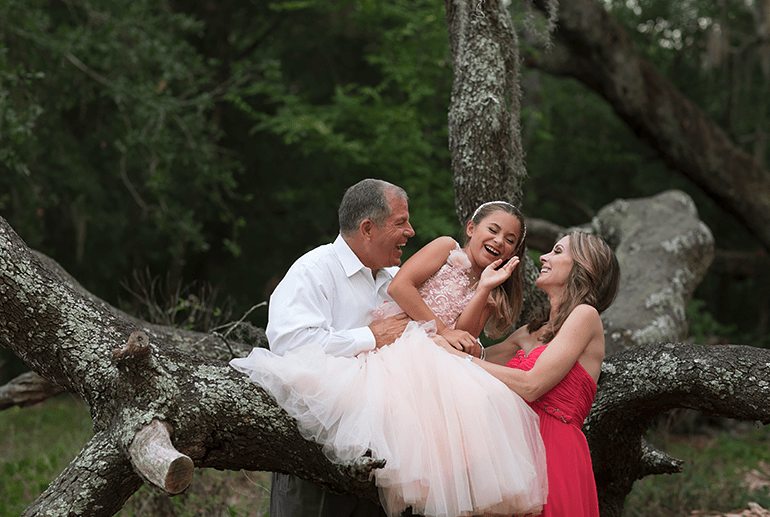 Did I just say that we had a two-in-one photoshoot? Believe it or not, we actually had a three-in-one session. After some awesome pictures we took at my studio, we headed outside to my favorite secret location. Green lawns, luscious greenery, bizarre trees could there be a more beautiful backdrop for this beautiful family? There, I discovered one more cool thing about this family their sense of humor.
While others pick weekend casuals or stick to suits and gowns for their outdoor photographs, these folks chose to be different. They went in pink outfits, even the boys… even the men. And you know what, they looked perfect in their corresponding attires!
This daring decision is paid off in full measure.
Not only did pink enhance the sense of affinity but also gorgeously blended with the lusciousness of nature. And the setting sun generously bestowed its delicate colors on this unique portrait.
Do I need to say that I couldn't be more proud of this work? Of teamwork, actually, because everyone was so nice and cooperative.
Even family pets, adorable Piper and Lexi. Yeah, we had a family with dogs photoshoot. And it's four in one.
Family portraits are the golden classics of photographic art. And they never get old. Such photo sessions carry powerful energy that stems from the chemistry across each element of a complex mechanism called a family. They recharge my creative batteries and give me positive emotions for the whole day. But enough about me, let's talk about why you and your family need a photoshoot.
First of all, it is a chance to assemble your full squad. When children grow up, and they leave a family nest, you can't spend as much time together as you used to. But how nice is it to see the loved ones next to you again? You can have fond memories of family get together not only in your heart but also on the walls of the home or in a photo album in the form of photographs.
You just need to choose a photosession as your joint pastime. You might even get so enthused that you order a custom-painted family portrait.
An extended family photoshoot is also an opportunity to flaunt your best outfits and simply look your best. Keep in mind that I provide a full range of services, including wardrobe
consultation as well as hair and makeup, courtesy of professional and talented artists.
So don't be afraid that group photoshoots are nerve-wracking or full of hassle. I go to great lengths to remove stress from your experience. And
when it comes to you, your job is as simple as to relax, put your charming smile on, and enjoy yourself.
Finally, if you have never had a family photo session before, you ought to give it a shot for the sake of new discoveries. What if it turns into a new family tradition? You'll never know until you try it. Plus, you'll get to visit new places (such as my favorite outdoor location) and meet new people (such as yours truly). Aren't new experiences and positive emotions what we live for? So leaving all your doubts behind in a photoshoot with your family is a must-do. View some photoshoot pose ideas.
Family Photoshoots in Orlando
I am Tamara Knight, a professional family photographer in Orlando. I am here for everyone who is looking for ways to enhance a family bond. A photoshoot with me is:
Stress-free experience at my studio and on location;
full-service packages, including makeup and hair services;
postproduction touch-ups for magazine quality photographs;
photo prints, folio boxes, and even luxurious custom paintings.
The doors of Tamara Knight's studio are open for all families, small and large. Pets are welcome as well! So don't postpone your positive emotions. Book your photoshoot now and strap in for the fun-packed experience.